-Interesting talk. Good to see Rudd still speaks!
The former prime minister of Australia, Kevin Rudd is also a longtime student of China, with a unique vantage point to watch its power rise in the past few decades. He asks whether the growing ambition of China will inevitably lead to conflict with other major powers — and suggests another narrative.
While studying future alternatives for China's global relations, former Australian Prime Minister Kevin Rudd has come to an ominous conclusion: conflict is looming.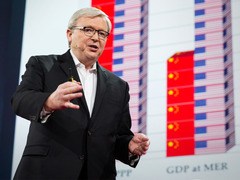 Why you should listen
Drawing on a deep knowledge of Chinese culture, language and history (and as a Senior Fellow with Harvard's Belfer Center), Kevin Rudd and his colleagues study alternate courses for US-China relations that guide us away from a seemingly inevitable confrontation. As Prime Minister during the global financial crisis (and as one of the founders of the G20), Rudd helped keep Australia out of recession with a stimulus strategy lauded by the IMF as exemplary among its member states. Rudd is also President of the Asia Society Policy Institute, a think tank specializing in Asian affairs.
In March 2015, Rudd published "
China under Xi Jinping: Alternative Futures for U.S.-China Relations
," a series of three addresses on American and Chinese values, perceptions, interests, and strategic intentions, and their impact on the possibility of developing a common narrative for U.S.-China relations for the future.
What others say
""An unmatched thinker on some of the world's most challenging topics." " — Eurasia Group president Ian Bremmer, quoted on Eurasia Group website, December 17, 2014