-Why? Just because it's there!
Dr. Kenneth Kamler recalls his harrowing experience on a climb towards the summit of Mt. Everest in 1996 when a lethal 2-day storm kicked up. The event, documented by writer Jon Krakauer in his bestselling book Into Thin Air, would lead to the deaths of eight climbers and leave several others -- including Kamler -- stranded and fighting for their lives.
In this presentation, Kamler explores the effects of the disaster, the rescue, and the relentless drive of human survival.
EG is the celebration of the American entertainment industry. Since 1984, Richard Saul Wurman has created extraordinary gatherings about learning and understanding. EG is a rich extension of these ideas - a conference that explores the attitude of understanding in music, film, television, radio, technology, advertising, gaming, interactivity and the web - The Entertainment Gathering
Kenneth "Ken" Kamler is a microsurgeon and mountain climber. Kamler was chosen by New York Magazine as one of New York City's best doctors in 2002. He is a microsurgeon trained at Columbia Presbyterian Medical Center who also practices extreme
medicine in the most remote corners of the world. He has served as chief high altitude physician for the NASA-sponsored research in human physiological responses to extreme altitude.
Into Thin Air: A Personal Account of the Mt. Everest Disaster
As covered in the book Into Thin Air by Jon Krakauer, in May 1996, Kamler was at Camp III on Mount Everest preparing for a summit attempt when a ferocious storm engulfed three teams of climbers returning from the peak. As the only doctor on the mountain when the storm hit, he treated the survivors as they descended from Camp IV.
A climber and doctor on many Everest expeditions, he has worked with National Geographic to carry out geological research and precision mapping using laser telescopes and global positioning satellite beacons. He appeared on ABC's Nightline in the first-ever live interview from Everest base camp. and has appeared many times on national television. Kamler lives in the New York City area.http://youtu.be/Bgqc2m7aBzs
登珠峰
Dēng zhū fēng Climb Mt. Everest
----------------
Some 200 people will attempt to scale the 8,848-metre (29,029-foot) summit this weekend when the weather is expected to provide the next safe window for the ascent, said Nepal tourism official Gyanendra Shrestha.
Everest overcrowding raises fears after four deaths - Telegraph
:
"On that day, there were too many people to go climb the Everest, there were too many traffic jams," her outfitter, Ganesh Thakuri, managing director of Utmost Adventure Trekking Pvt. Ltd., said by telephone Tuesday after he returned from base camp.
"When it was over 8,500 metres, she loses her stamina and she was very weak … They tried to get her to go back but [she] did not listen. She wanted to go to the summit anyhow. It took a very long time. It was 22 hours to go on top of Everest for her. On the way back down, she lost her energy."
A similar crowd of 208 climbers headed to the summit last week, and four died Saturday in one of the deadliest days ever on the mountain.
Ha Wenyi of China, Eberhard Schaaf of Germany, Nepal-born Canadian Shriya Shah and South Korean Song Won-bin died on their descents from the summit, apparently from exhaustion and altitude sickness.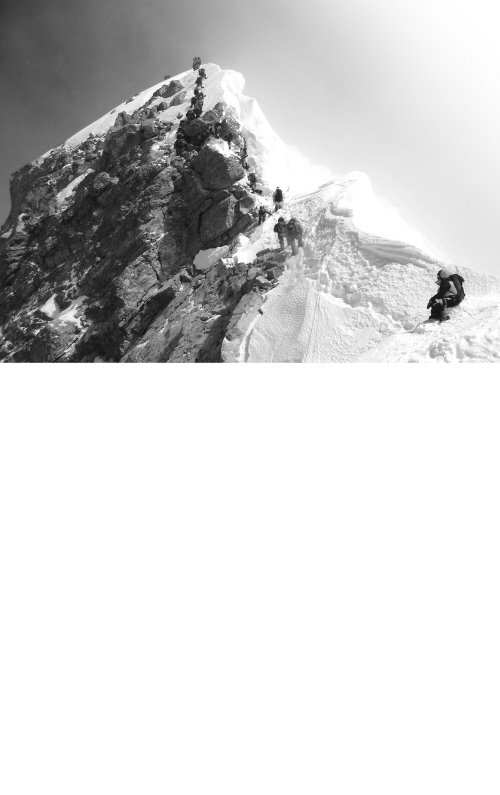 That's what happened to four climbers last weekend. Dr. Eberhard Schaaf of Germany, Song Won-bin of South Korea, and Canadian Shriya Shah
died while trying to descend from the peak
. There are new reports today that the body of Ha Wenyi of China was also discovered, according to USA Today.
More climbers are attempting to summit the peak every year during climbing season between late March and the beginning of June. They spend weeks getting used to lower levels of oxygen at different camps at increasingly higher altitudes, carrying their packs. The Telegraph reports this year,
favorable conditions for climbing to the top didn't occur until last Friday
, which was later than usual.
尼泊尔官方珠峰南坡大本营的公务人员迪盆卓·鲍德尔上午告诉法晚记者,遇难的中国人是55岁的登山者Ha Wenyi(音:哈闻宜),他被发现在珠峰海拔8600米处遇难。至此,已经有4人遇难。陪同他的尼泊尔向导也失踪了,目前还未找到,不知是否已经遇难。
路挤风疾华人珠峰遇难-法制晚报
: