-Addicted to their Audis!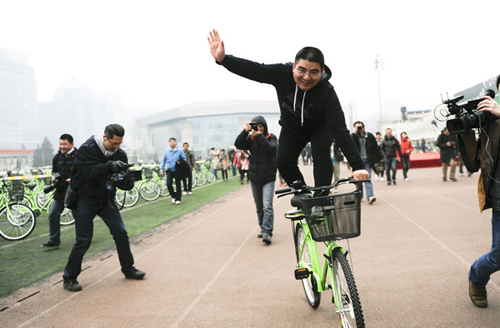 Businessman and well-known philanthropist Chen Guangbiao shows his moves on a bicycle in Yuetan Stadium in Beijing on Thursday. Chen provided 2,000 bikes free of charge to schools and communities in a campaign to promote a low-carbon lifestyle. Photo Courtesy Liao Pan / China News Service
"As roads become increasingly jammed with polluting traffic, government officials are trying to set a good example by returning to the kingdom of the bicycle.
But going back to two wheels is proving as difficult as actually reversing on them in some cases.
The small county of Pingyin in Shandong province has been testing the use of "official bicycles" to cut exhaust emissions and government expenditure for almost a year. Yet the bikes seem to have remained parked in garages for most of the time.
One day recently at the county government building, 20 bikes for officials were standing neatly lined up and locked in racks. Dust covered the saddles and the tires still had their tiny rubber nodules. They looked like they had hardly been used...."
A bit hard to ride for officials
- China Daily